Artist Statement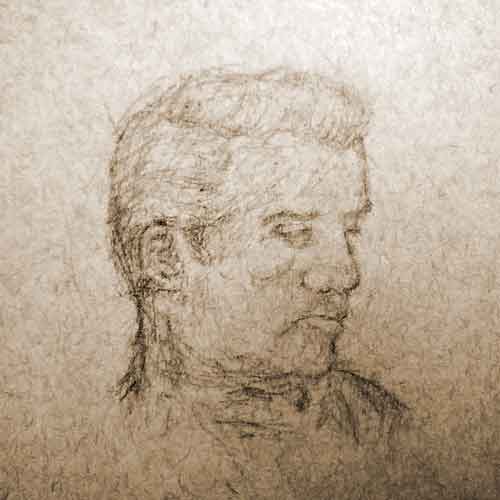 Om dat de werelt is soe ongetru
Daer om gha ic in den ru
In that the world is so untrue
Therein I go in rue.1
I work from historical and contemporary film and photographic sources to create narrative compositions of significant social and political events, the tragedies, histories and sometime comedies of the 20th and 21st-centuries.
The work employs the compositional techniques of history paintings or "story painting" using mulitple manipulated details2 of people, architecture and landscapes, meticulously selected from film and video stills, photographs, crime scene documents, maps and street views to create the final tableaux.
I sample as many contemporaneous sources as relevant to the composition and strive for historical accuracy, taking poetic license in the drama of the moments chosen to depict these stories.
The work is indebted to the intrepid documentarians who recorded these events for posterity.
Contact
For inquiries about exhibiting, publishing or commmissions please contact:
email gordon.belray@utoronto.ca
Instagram @gordonbelray
Twitter @gordonbelray
Exhibitions & Publications
International Photography Annual 7
June, 2020
Manifest Gallery, Cincinnati, Ohio,

Lumumba in the Arts Edited by Matthias De Groof
Jan, 2020
Leuven University Press

Nuclear Visions: The Atomic Photographers Guild
Sep 20 - Oct 31, 2019
John and June Allcott Gallery, The University of North Carolina at Chapel Hill, NC

10th Annual NUDE
A Decade of Exploring the Uncovered Human Form
Manifest Gallery, Cincinnati, Ohio, Aug 16 - Sep 14, 2018


Amerikaanse kunstenaar Gordon Belray geeft moderne geschiedenis facelift


de Volkskrant, Netherlands, July 3, 2018

Wat Trump en Kim Kunnen Leren van Nixon en Mao


de Volkskrant, Netherlands, June 6, 2018

Martin Luther King: 50 Years Later: His Life and Legacy


Condé Nast Special Editions, New York, March 2018

INPHA 6 INTERNATIONAL PHOTOGRAPHY ANNUAL
Manifest Gallery, Cincinnati, Ohio, Summer 2018

INPA 7 INTERNATIONAL PAINTING ANNUAL
Manifest Gallery, Cincinnati, Ohio, Summer 2018

THE PRINT CENTER PHOTO REVIEW AWARD
Philadelphia, PA, 2017

SEMI-FINALIST 8TH ANNUAL MANIFEST ONE PRIZE
Manifest Gallery, Cincinnati, Ohio, Nov 2017

MEMORY LANDS
B # S Gallery, Treviso, Italy, Nov 11th - Dec 2nd, 2017

AFTER HIROSHIMA
Treviso, Italy, Aug 6th - Oct -6th, 2017

PLACE
Manifest Gallery, Cincinnati, Ohio, Mar 14 - Apr 7, 2017

SEMI-FINALIST THE PRINT CENTER'S 91st ANNUAL INTERNATIONAL COMPETITION
The Print Center, Philadelphia, Pennsylvania, May 2017

SEMI-FINALIST MANIFEST EXHIBITION ANNUAL ONE 7 - The Manifest Prize
Manifest Gallery, Cincinnati, Ohio, Spring 2017

GET NOTICED: 16 NEW ARTISTS SELECTED BY MARIANNE KATZMAN AND RICHARD RHODES
the red head gallery, Toronto, ON, Dec 9, 2016

MÉMORIAL DE VERDUN
Verdun, France, Spring 2018
INPHA 5 INTERNATIONAL PHOTOGRAPHY ANNUAL
Manifest Gallery, Cincinnati, Ohio, Spring 2017

FOTOMUSEUM, SITUATION #43: Der Greif, (Un)filtered Scenarios.
An Experiment in Distributed Selection
Der Greif, Augsburg, Germany, 17 September – 27 November 2016
LANDS OF MEMORY: INTERNATIONAL CONTEMPORARY ARTISTS REVEALING WAR LEGACIES
The Battlefield Museum,Vittorio Veneto, Italy, Oct 6 - Oct 25, 2016.

CONTEMPORARY ART PHYSIS & TÉKHNE Contemporary Artists in Comparison with Technology and Nature in the '900 Conflicts
Società Cormonese Austria Gallery, via Matteotti, Cormons, Italy, June 24th, 2016
SINE LINEA REENACTMENT International Contemporary Artists in Comparison with the Demarcation Lines of the '900 conflicts
Izola, Slovenija, April 16th, 2016
CONTEMPORARY ART PERSPECTIVE ON WAR International Contemporary Artists Revealing War Perspectival Deceptions
Trieste, Italy, March 17th, 2016

Kathernine Mulherin Gallery Contemporary Art Projects


Toronto, Canada