Artist Statement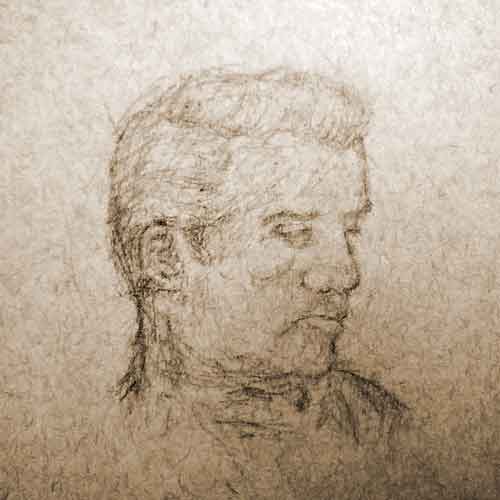 Om dat de werelt is soe ongetru
Daer om gha ic in den ru
(In that the world is so untrue
Therein go I into rue.)1
I work from historical film and photographic sources to create narrative compositions of significant 20th and 21st-century events and persons.
My work is situated between history painting and post-internet strategies of appropriation of the searched image and uniquely deconstructs lens-based archives using the formalism of the pre-photographic era. Combining extensive research with meticulous image selections, a comprehensive array of source material2 is digitally manipulated into a painterly tableau, retaining traces of process. I situate the work chronologically and geographically, aided by maps, street views, crime scenes and historical accounts, and additionally colorize, paint and draw on the work electronically.
I approach historical subjects, and more recently current global events, using the full scope of available recorded and archived media. While each frame indexes a specific moment in time, the composite is a fabrication of truth and propaganda, news and cinema, record and memory. The effect of re-witnessing history as a narrative landscape evokes its greater mythology. While the work borrows from classical painting genres to posit contemporary retellings of historical events, literal reinterpretations are not intended. Measurements indicate maximum print dimensions but are variable.
Contact
email gordon.belray@utoronto.ca
Instagram @gordonbelray
Twitter @gordonbelray
Exhibitions & Publications
Nuclear Visions: The Atomic Photographers Guild
Sep 20 - Oct 31, 2019
John and June Allcott Gallery, The University of North Carolina at Chapel Hill, NC

International Photography Annual 7 Book Publication
Fall 2019
Manifest Gallery, Cincinnati, Ohio,

10th Annual NUDE
A Decade of Exploring the Uncovered Human Form
Manifest Gallery, Cincinnati, Ohio, Aug 16 - Sep 14, 2018


Amerikaanse kunstenaar Gordon Belray geeft moderne geschiedenis facelift


de Volkskrant, Netherlands, July 3, 2018

Wat Trump en Kim Kunnen Leren van Nixon en Mao


de Volkskrant, Netherlands, June 6, 2018

Martin Luther King: 50 Years Later: His Life and Legacy


Condé Nast Special Editions, New York, March 2018

INPHA 6 INTERNATIONAL PHOTOGRAPHY ANNUAL
Manifest Gallery, Cincinnati, Ohio, Summer 2018

INPA 7 INTERNATIONAL PAINTING ANNUAL
Manifest Gallery, Cincinnati, Ohio, Summer 2018

THE PRINT CENTER PHOTO REVIEW AWARD
Philadelphia, PA, 2017

SEMI-FINALIST 8TH ANNUAL MANIFEST ONE PRIZE
Manifest Gallery, Cincinnati, Ohio, Nov 2017

MEMORY LANDS
B # S Gallery, Treviso, Italy, Nov 11th - Dec 2nd, 2017

AFTER HIROSHIMA
Treviso, Italy, Aug 6th - Oct -6th, 2017

PLACE
Manifest Gallery, Cincinnati, Ohio, Mar 14 - Apr 7, 2017

SEMI-FINALIST THE PRINT CENTER'S 91st ANNUAL INTERNATIONAL COMPETITION
The Print Center, Philadelphia, Pennsylvania, May 2017

SEMI-FINALIST MANIFEST EXHIBITION ANNUAL ONE 7 - The Manifest Prize
Manifest Gallery, Cincinnati, Ohio, Spring 2017

GET NOTICED: 16 NEW ARTISTS SELECTED BY MARIANNE KATZMAN AND RICHARD RHODES
the red head gallery, Toronto, ON, Dec 9, 2016

MÉMORIAL DE VERDUN
Verdun, France, Spring 2018
INPHA 5 INTERNATIONAL PHOTOGRAPHY ANNUAL
Manifest Gallery, Cincinnati, Ohio, Spring 2017

FOTOMUSEUM, SITUATION #43: Der Greif, (Un)filtered Scenarios.
An Experiment in Distributed Selection
Der Greif, Augsburg, Germany, 17 September – 27 November 2016
LANDS OF MEMORY: INTERNATIONAL CONTEMPORARY ARTISTS REVEALING WAR LEGACIES
The Battlefield Museum,Vittorio Veneto, Italy, Oct 6 - Oct 25, 2016.

CONTEMPORARY ART PHYSIS & TÉKHNE Contemporary Artists in Comparison with Technology and Nature in the '900 Conflicts
Società Cormonese Austria Gallery, via Matteotti, Cormons, Italy, June 24th, 2016
SINE LINEA REENACTMENT International Contemporary Artists in Comparison with the Demarcation Lines of the '900 conflicts
Izola, Slovenija, April 16th, 2016
CONTEMPORARY ART PERSPECTIVE ON WAR International Contemporary Artists Revealing War Perspectival Deceptions
Trieste, Italy, March 17th, 2016

Kathernine Mulherin Gallery Contemporary Art Projects


Toronto, Canada